| | | | |
| --- | --- | --- | --- |
| SCI | Municipalities | Total Surface Area | Surface within the region |
| Río Bergantes | Aguaviva and La Ginebrosa | 241 ha | 241 ha |
Habitats or species of interest: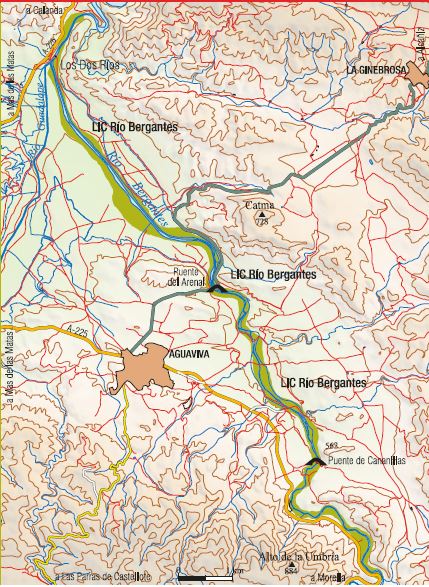 Featuring vulnerable species of animals (otter) and plants (Petrocoptis pardoi). The area close to the Guadalope-Maestrazgo Special Protection Area (SPA) is of great interest for birdlife. Aguaviva and La Ginebrosa are found inside the limits of the Maestrazgo Cultural Park (UNESCO World Heritage site), which is home to different geological formations that are representative of the evolution of the Iberian Mountain Range since the beginnings of the Mesozoic Era. The landscape of Las Cananillas, on the River Bergantes, has been declared a Site of Community Interest (SCI).
Download information from the guide Aves y Territorio. Un recorrido ornitológico por el Bajo Aragón (Birds and Region. A birdwatching visit to the Lower Aragon region).