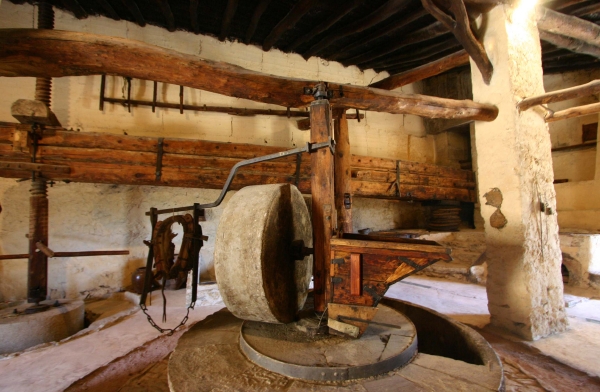 Welcome to Jaganta, a locality in the Lower Aragon region and outlying district of the nearby town of Las Parras de Castellote, 3 kilometres away. It is located at the head of the Las Parras Ravine, the waters of which flow into the River Guadalope. The village is reached via the road from Las Parras or from the Santolea Dam. Until the 18th century, it was named Saganta, which is probably Indo-European in origin.
The streets and squares of Jaganta invite visitors to wander slowly while soaking up the tranquillity that seeps from the walls of the buildings. The history of the place and its inhabitants can be felt with every step. Among the most interesting buildings are the old olive oil mill and the church of San Felipe y Santiago.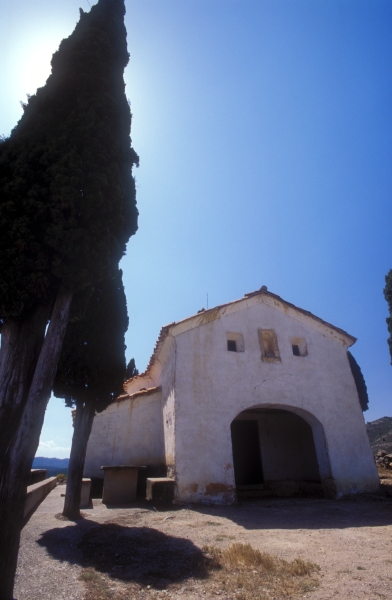 The olive oil mill of Jaganta, built in the 17th century and restored in 1995, is kept in perfect condition and is an excellent example of the pre-industrial process of grinding olives to obtain the highly prized oil of the Lower Aragon region.
It is a modest mud brick building with two openings in the wall for access and a single sloping roof consisting of a wooden frame, covered in a lattice of woven cane and topped with Arab-style clay tiles. A square turret rises over the rest of the edifice where press machinery is housed. Next to the entrance is a fountain and cistern, which supplied the mill with water.
The traditional machinery is preserved inside the mill. The millstone used to grind the olives was operated by animal traction, with an animal turning the mechanism to produce the olive paste, which was then sent to the press, comprising a huge beam made of six pieces of timber joined together with metal fasteners. This served as a lever that was operated with a counterweight, a huge stone that weighed 3 tonnes. Once the olive paste was pressed, hot water was poured into the base of the press to allow the oil to run easily through channels into basins, where both liquids were separated by decantation.
The other large building in Jaganta is the church, dedicated to Saints Philip and James. It was built in the 18th century in the Baroque style, and the date 1742 is inscribed over the door. Built in stone, it presents the features of the elegant Baroque style, and features a beautiful doorway with pilasters flanked by stylized plant motifs.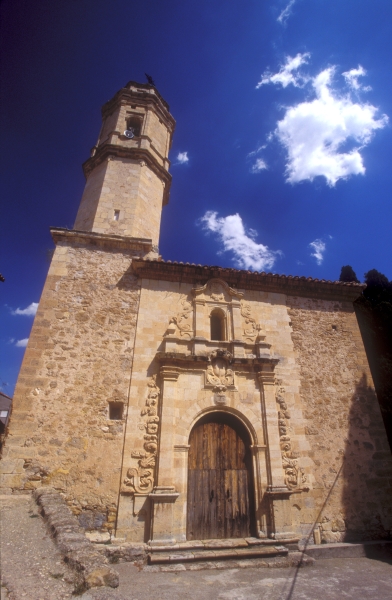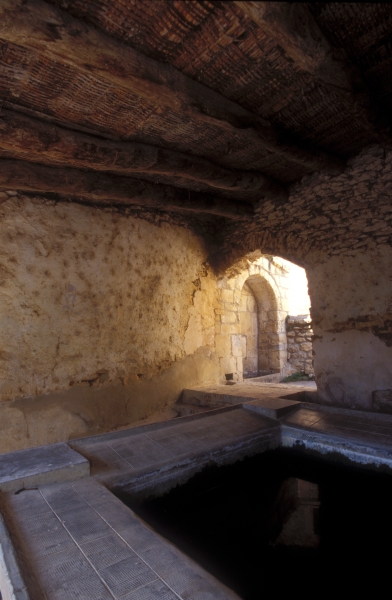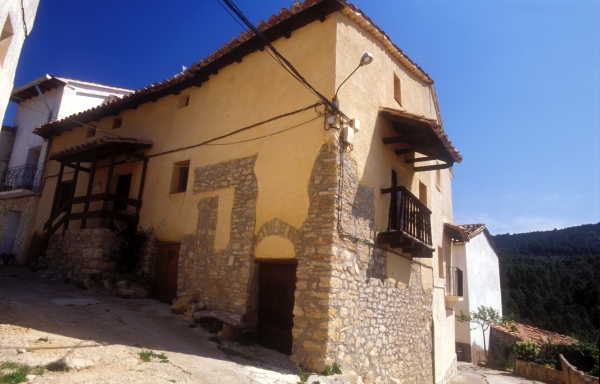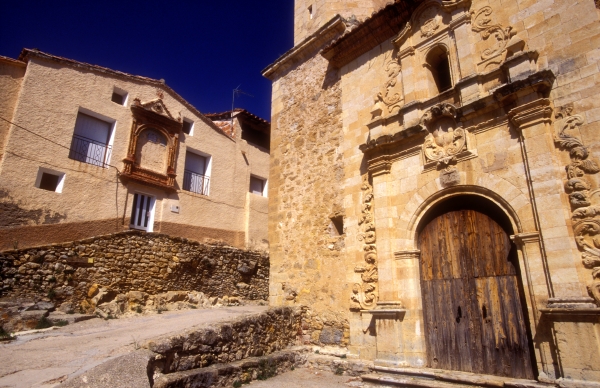 Also striking is the old pelota court with twin arches built in 1866, next to the church, and the Fountain of the Cypresses.
Finally, on the outskirts of the village, on the road to Las Parras de Castellote, is the chapel of San Pedro Mártir. Cypresses embellish the surrounds of this building, which is plaster rendered and whitewashed. Built in 1795 in the Baroque style, it is round with a porch over the entrance, which is defined by a diminished arch.
RECOMMENDED LINKS
For more information on the cultural heritage of Jaganta
Scenic and Environmental Catalogue