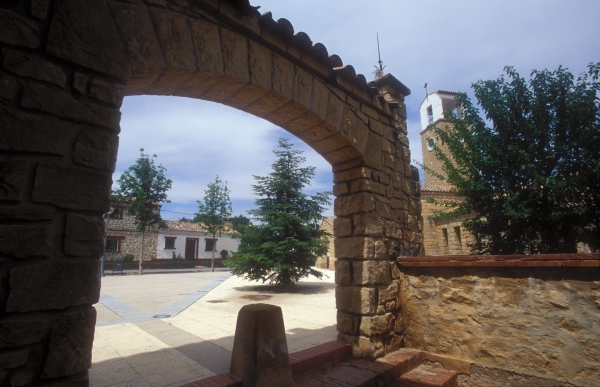 Welcome to Valmuel, a town in the Lower Aragon region and part of the city of Alcañiz. It is located in the valley of the River Regallo, between the left bank of the river and Puigmoreno Hill, on the Valmuel Plain, from which it takes its name. It is 12 kilometres from Alcañiz proper and 4 kilometres from its neighbour Puigmoreno.

Archaeological excavations in the area have discovered remains dating between the Bronze Age and the Iberian and Roman period. After the Christians reconquered the area from the Moors in the 12th century, the area came under the control of the Military Order of Calatrava, whose cross is still to be seen in the doorway of the Masada de la Orden (Farm of the Knights) located near today's Valmuel. After this time, the area became home to mainly farms, most of which were inhabited until the Spanish Civil War.
The village as it is known today was founded in the mid-20th century. In the 1950s the Spanish government's National Colonisation Institute, through its General-Directorate for Devastated Regions, created a series of hydraulic infrastructures to promote agriculture in areas devastated by the civil war. In the case of Lower Aragon, the purpose-built villages of Valmuel and Puigmoreno were planned for the area near to the River Regallo.
The village was first named Alpeñés del Caudillo, later changed to Vamuel del Caudillo, and definitively to Valmuel after the end of Franco's dictatorship (Caudillo being a reference to Franco).
The layout of the village, designed by the architect José Borobio, is based essentially on the priority given to function by the rationalist style. This influenced everything from the location of this purpose-built village, next to the fields, to the design of the houses built for resettlement after the Spanish Civil War, with their clean lines and rear yards, originally meant for keeping animals. This allowed the agricultural aspect as well as the needs of livestock to be covered.

The most important buildings were placed around the central square, the nerve centre, around which the rest of the village was laid out. Among these is the church, with its tall square bell tower, in addition to the fountain, health centre, government building and community centre.

The wide, tree-lined streets of Valmuel welcome visitors to stroll through its charming spaces and hark back to a time when people from different parts of Spain were settled in this village to cultivate its lands.
In their honour, Valmuel opened its Interpretive Centre for Settlers in 2008, in which explanatory panels and a documentary relate who the first settlers were and their personal stories.
ENLACES RECOMENDADOS
Programme Samll but not invisible broadcast on Aragón TV devoted to Valmuel
For more information on the cultural heritage of Valmuel
Scenic and Environmental Catalolgue.