Welcome to Las Parras de Castellote, a town in the Lower Aragon region located between the Rivers Guadalope and Bergantes, 46 kilometres from Alcañiz. The municipal district includes the two towns of Las Parras de Castellote and Jaganta
Its name refers to its association with Castellote and the presence of
parras
or vines in the area.
Archaeological excavations in the area evidence the presence of the settlement since the early Iron Age, at the Cabezo de los Canales site, and more particularly from the Ancient Iberian period at El Pilón de San Pablo and El Casejo del Tío Anico sites.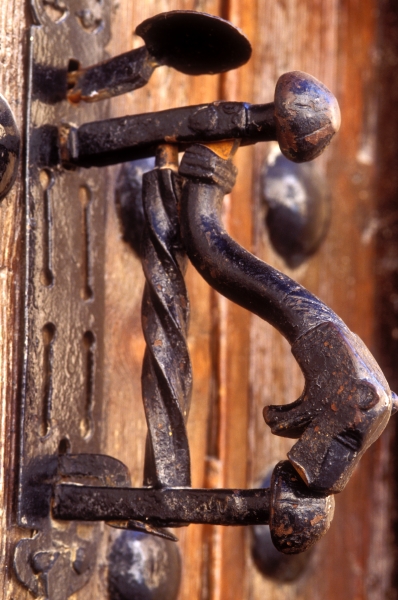 As occurred with the other localities in the area, Las Parras de Castellote was part of the lands reconquered by King Alfonso II of Aragon from the Moors in the 12th century, and was administered first by the Knights Templar and later by the Knights Hospitaller as part of the Commandery of Castellote. In 1612, the town began the process of gaining autonomy from Castellote, and after 1711 was administered by Alcañiz until 1833, when Spain was divided into provinces.
There is a wealth of cultural heritage in Las Parras, a living testament to the history of the town and its inhabitants. The most outstanding of all its buildings is the church of San Nicolás de Bari, built in masonry in the 17th century. Laid out on a rectangular plan, it has a squared-off apse, side chapels and a barrel vault ceiling with lunettes. Of great interest is the Mannerist-style stuccowork that is used to embellish the vault and arch intradoses. At the front of the church, integrated into the façade on the left (gospel) side of the doorway is the square bell tower with a pyramidal spire.
On the side of the church, adjacent to the apse, is the Gate of San Antón, which was once part of the town's defensive wall. It is in the Baroque style and crowned with a classical-style open niche-chapel that houses the image of Saint Anthony the Great, after whom it is named.

In Calle San Antón and Calle Mayor are beautiful and noble houses with arched doorways that still preserve inscriptions on their façades dating from the 17th and 18th centuries. Examples are Casa Escuder, with an upper arcade and cantilevered wooden eaves, and the town hall, with the old market on the ground floor, demarcated by semicircular arches supported by columns.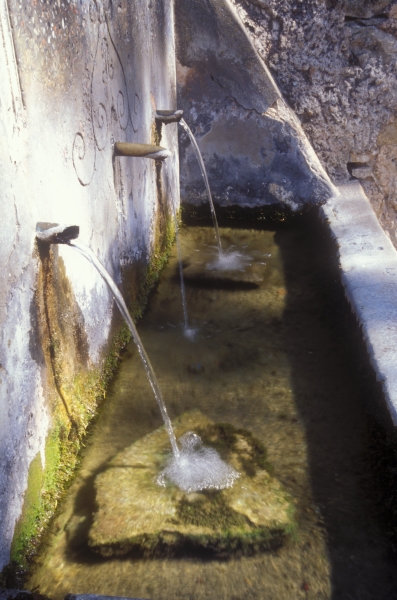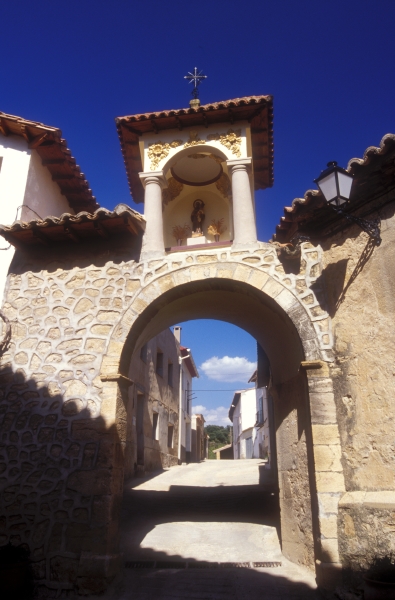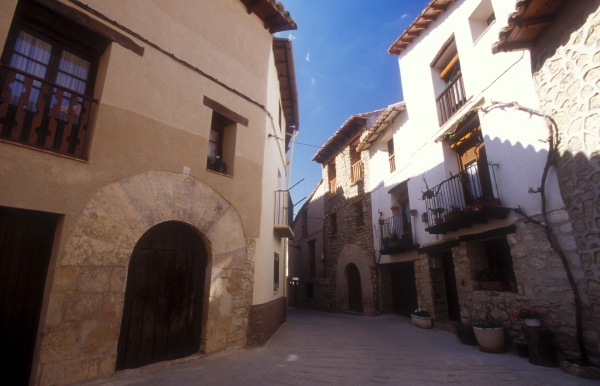 But the streets of Las Parras are home to many more interesting examples of vernacular architecture and engineering. This is the case of the bridge near the church comprising stone arches, the magnificent traditional wash house, the treadmill operated by animal traction, recently restored, the Upper and Lower Fountains, and the old mills, which once produced olive oil and flour, the latter now converted into a care home for the elderly.

Finally, a walk around the outskirts of the town will lead to the chapel of Santa María Magdalena, known popularly as "La Malena", and the chapel of El Calvario or Monte Santo (Holy Hill), which offers an excellent vantage point over the area.
RECOMMENDED LINKS
To watch the programme Small but not invisible boadcast on AragónTV devoted to Las Parras de Castellote
For more information on the cultural heritage of Las Parras de Castellote
Scenic and Environmental Catalogue